Booking Request
The SO What Brothers are one of the most popular, in-demand bands in Colorado. To request pricing or more information for your event, complete the form below.
Dynamic Production, Inc manages the SO What Brothers and additional Colorado talent from every genre. If the SO What Brothers are unavailable for your event we will send you a list of additional talent based on your entertainment goals and information provided.
*
*
*
*
*
*
*
*
* Fields Required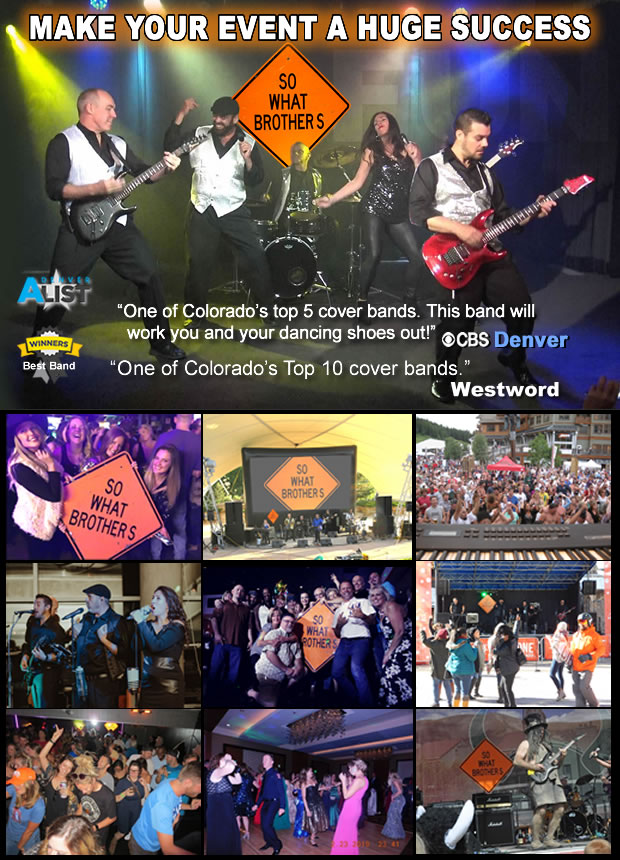 You can also call or text 720-633-0732.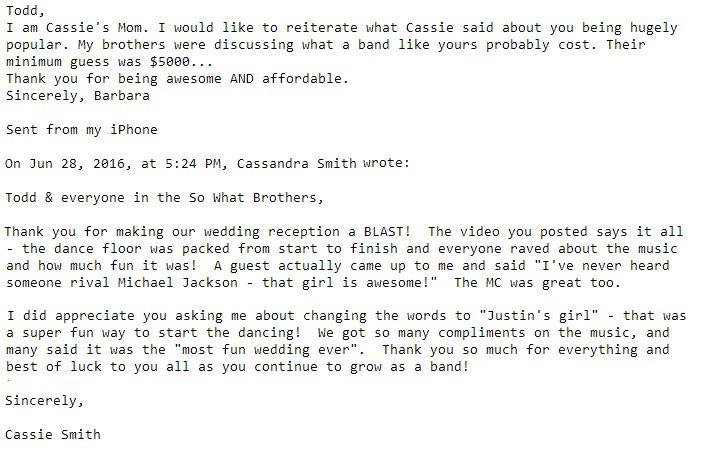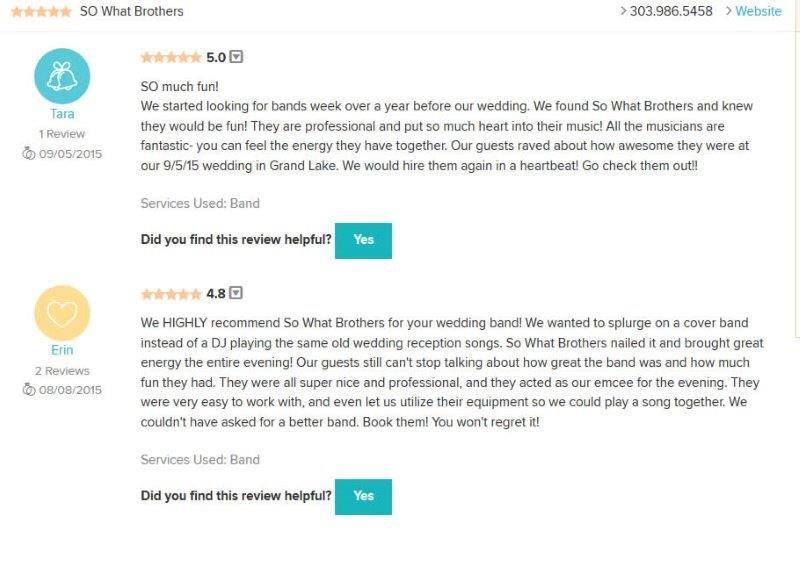 The So What Brothers are one of the most popular cover bands in Denver. The group has performed hundreds of concerts, corporate & private events, and weddings. Past clients include:
Colorado State Fair
Adams County Fair
The Governors Office
City of Lakewood
City of Fort Morgan
Colorado School of Mines
The Ranch Country Club
Columbine Country Club
Denver Zoo
Denver Fire Department
Lakewood Country Club
The Denver Zoo
City Park
The Denver Post
Ride The Rockies
Red Frog Events
Warrior Dash
City of Lafayette
The Copper Triangle
Pinnacle Mortgage Group
Olde Town Arvada
Walk with Autism
Metro Crisis Services
Museum of Nature & Science
Stolle Machinery
AC Golden Brewery
Denver Chalk Art Festival
Light The Night
Foothills Park & Recreation District
Denver Art Museum
Sangre de Cristo Arts Center
Rio Tinto Minerals
Baytex Energy USA Ltd.
Rock n Roll Marathon
University of Denver
Corum
and many more.
CBS Denver named them as one of top cover band in Denver. They were voted best band by ABC Channel 7. Their high energy show, eclectic song mix, and broad appeal is setting a new standard in corporate, nightclub, and wedding entertainment. For more information, contact Todd at 720-633-0732.
Rates
Rates vary per event and are mainly determined by the bands time on sight, travel and time of year. Please submit your booking request and we contact you about our availability and cost for your event.
Staging & Cover
Purchaser shall provide the band and sound system with safe and appropriate working conditions. This includes a 16-foot by 8-foot area for setup, and additional space for setting up speakers, sound board, and lighting stands (if lighting is contracted). A stage or cover is not required for indoor events. For outdoor performances, Purchaser shall provide overhead shelter for setup area. The Band reserves the right, in good faith, to stop or cancel the performance if shelter is not provided or should the weather pose a potential danger to the band, the equipment, or audience. Every effort will be made to continue the performance. However, safety is paramount in all decisions. Compensation for the Band or Sound Company (if contracted) will not be affected by such cancellation. It is understood that this is a "Rain or Shine" event, and the Band's compensation is in no way affected by inclement weather.
Power
The band and sound company (if contracted) each requires a minimum of one 15-20- amp circuit outlet from a reliable power source within 50 feet (along the wall) of the set up area. This circuit must be free of all other connected loads. Any delay in the performance or damage to the Band's equipment due to improper power is the responsibility of the Purchaser.
Cancellation
The purchaser and the band agree that this contract is not subject to cancellation unless both parties have agreed to such cancellation in writing. In the event the Purchaser breaches the contract, he or she shall pay the band and sound company (if contracted) the amount set forth above as agreed upon.
The agreement of the band to perform is subject to proven detention by accidents, riots, strikes, epidemics, acts of God, or any other legitimate conditions beyond their control. If such circumstances arise, all reasonable efforts will be made by the band to find replacement entertainment at the agreed upon fees. Should the band be unable to procure a replacement, Purchaser shall receive a full refund. Purchaser agrees that in all circumstances, the band's liability shall be exclusively limited to an amount equal to the performance fee and the band shall not be liable for indirect or consequential damages arising from any breach of contract. All deposits are nonrefundable if canceled within 30 days of the engagement unless the band cancels the engagement.